The World's Most Effective Slimming Solution! Non-Invasive And Effective! Health Benefits Are Endless!
Target problem areas with Ultrasonic Cavitation Remover and see visible results within 2-3 days! Cavitation treatments at local beauty centers can cost upwards of hundreds of dollars for a single session! Why pay so much when you can have as many treatments as you want in the comfort of your own home?
Ultrasonic Cavitation Slimming Machine produces infrared heat to encourage blood flow underneath the outer skin layer. Fat deposits are broken down and eliminated by the body. Aches and pains are also reduced because of improved blood circulation.
WHAT IS ULTRASONIC(Ultrasound) CAVITATION?
Ultrasonic(Ultrasound) cavitation is a process where you transmit waves of ultrasonic in to cellulite affected areas of your body. The frequency of the ultrasonic is set to disrupt the fat cells that are causing the cellulite to appear. The continuation of the cavitation therapy causes the fat the get moped up within the lymphatic system and disposed of via the liver. The technology is very effective and a real technological breakthrough for getting rid of cellulite.
Function:
- Skincare to clear, lighten, smooth the look of skin 
- Negative Ionization: acne and blemish particles are positively charged. This device can provide negative ionic charges to remove the positively charged particles like acne and blemish particles from the lower layer of your skin.
- Positive Ionization: positive ions is used to nutrients from gel, cream or essences to penetrate deeper layer of our skin. 
- Firm the skin texture
- Reducing the appearance of both wrinkles and fat deposits
- Deep cleanse and moisturize
- Enhance skin texture, anti-wrinkle, helps fight fatty areas, tightens and firms.
Technology:
1. EMS + Infrared + Ultrasonic(Ultrasound)
2. The ultrasonic wave massage can helps to burn fat and tighten your skin with no rebounce.
3. The infrared ray can restore the elasticity and active the cells more thoroughly.
4. 5 Modes of EMS (Tapping, Massage, Knead, Scrapping, Slimming) , 5 intensity selections, freely choose one make you feel comfortable. 
Note: The ultrasonic wave and far infrared will cause a warm feeling to your skin, This is the normal phenomenon, please use with ease. 
SLIMMING AND TONING- Ultrasound technology helps slim down fat by decreasing waste around fatty tissue and tightens skin.
HEAT THERAPY- Infrared heat sensors penetrate deep into skin, so you can feel the heat generate and soothe.
SKIN REJUVENATION- Help activate cells and skin and regenerate skin elasticity for better looking skin and feeling skin.
TREATS PAIN- Effectively treats severe aches and pains all over your body.
REGULATES- Aids the regulation of secretion and helps body increase fat faster which aids in weight loss. 
MICROCURRENT- Microcurrent technology stimulates the muscles and massages through excess fatty tissues and acids.
CONVENIENT- Stylish, slick and minimalist design in a handy size and easy button control for your convenience and pleasure.
Features:
1.      Ultrasound Fat Cavitation Therapy Is Versatile
Ultrasound fat cavitation can be used on virtually any area of your body where you're carrying extra weight. Common treatment spots include the belly, thighs, buttocks, or back. 
2.      Ultrasound Fat Cavitation Therapy Is Non-Invasive
Unlike liposuction, ultrasound fat cavitation doesn't require any surgical procedures – so there's no anesthesia, no blood, and no bandages. Instead, the treatment relies on low-frequency sound waves to help you lose inches, without causing any bodily trauma.
3.      Ultrasound Fat Cavitation Therapy Is Natural
Fat cavitation therapy uses low-level ultrasonic waves to break your fat cells down into a liquid while leaving surrounding tissues intact. Once the fat cells have liquefied, they're eliminated from your system using your body's own natural elimination processes.
4.      Ultrasound Fat Cavitation Therapy Is Painless
During and after the procedure, you shouldn't experience any discomfort. At most, you may feel a gentle warming sensation as the Ultracavitat works its way across your skin.
5.      Ultrasound Fat Cavitation Therapy Is Safe
Ultrasound is routinely used for many diagnostic and therapeutic medical procedures. There's no risk involved, especially when compared to other methods of fat reduction that require invasive surgical procedures.
6.      Ultrasound Fat Cavitation Therapy Is Fast
Each fat cavitation therapy session only takes 20-60 minutes, making it the perfect lunch-hour treatment. There's no downtime, and the only thing you'll need to do to prepare is drink plenty of water.
7.      Ultrasound Fat Cavitation Therapy Is Immediate
Results are often visible right away – sometimes, you can see a difference immediately after your very first treatment. Optimal results begin to show in as little as 72 hours. Depending on your individual body composition, you may need six to twelve treatments in order to achieve your goals.
8.      Ultrasound Fat Cavitation Therapy Is Easy
Aside from increasing your water intake, eating healthy, and maintaining a moderate exercise program, there's nothing else you need to do to reap the benefits of ultrasound fat cavitation therapy. 
9.      Ultrasound Fat Cavitation Therapy Is Effective
When diet and exercise fails, ultrasound fat cavitation therapy offers a solution that works. You can reshape your body, banish cellulite, and feel good in the skin you're in.
Package Includes:
1x 1MHz Ultrasound massager
1x Power adapter
1x Wire
2 Pair of Contact Pads
1x English User Manual
1.It is normal that the fat remove machine will NOT get hot when you using;
2.The vibration frequency of body massager is 1000000 times per second. But people's feeling is not strong about so high frequency vibration.
So it is normal that you will NOT feel the vibration when using it. If you want to feel the microvibration of high frequency, you can do the water test. Put a drop of water on the round metal thing and turn the unit on in Sonic Mode. You'll see the water droplet vibrating at very high speed.
Use EMS with Massage Pads
There are 5 modes for EMS functions, people can choose any one according your feeling.
Suggest sticking pads on according to the map(use manual ), there are six function: belly tightening, hip tightening, waist beauty belly beauty, skin beauty, weight reduction.
1.Clean the treatment area of your body.
2.Connect one end of the EMS wire to the pads,and the other one to the device.
3.Remove the protective films from the pads,and then stick the pads onto the treatment area.Do not overlap the two pads.
4.Make sure that the EMS intensity is at level 0.
5.Turn on, press EMS button,select a proper EMS level on the right side of device body.
6.Reset the EMS intensity level to 0 every time after use.
7.Two pads have to be used together at the same time.
How to use?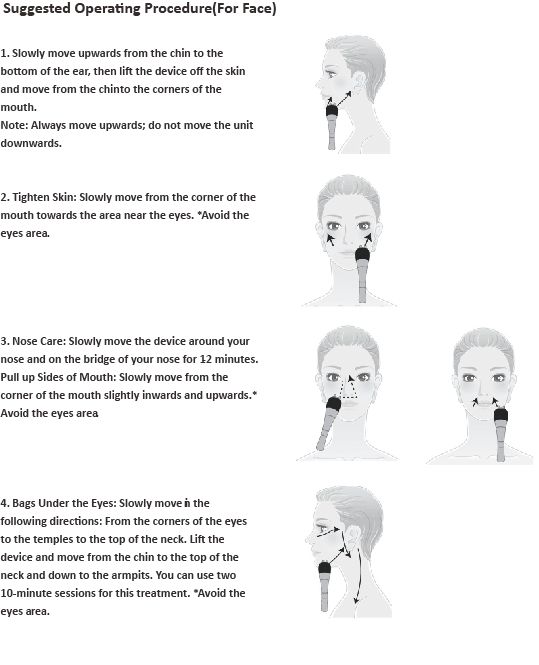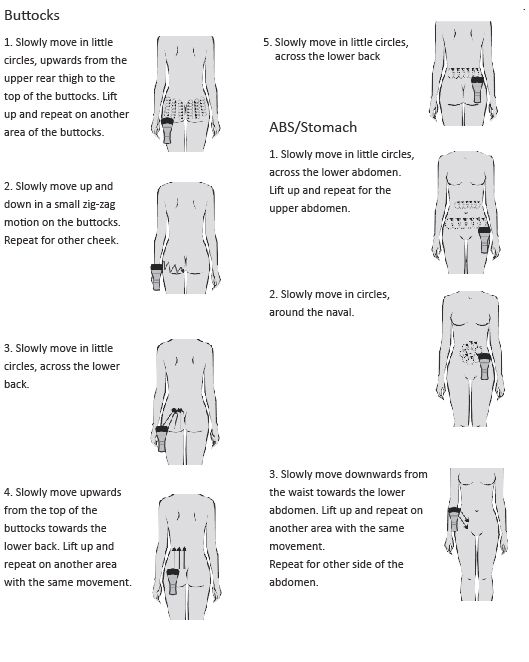 ----------------- 
YUANHONG 5-POINT HAPPINESS CHECKLIST
FREE shipping. No surprises or hidden fees.
Safe payments via Credit/Debit Cards and/or PayPal®
30 Day Money Back Guarantee
Help when you need it. We got you!
Tracking number for every order
We use encrypted SSL certificates for 100% security.